Nicole Archambault, EdS, MS, CCC-SLP, CYMHS, CSSC, CLEC
Founder, Allspace Therapy TM
The Mindful Connector TM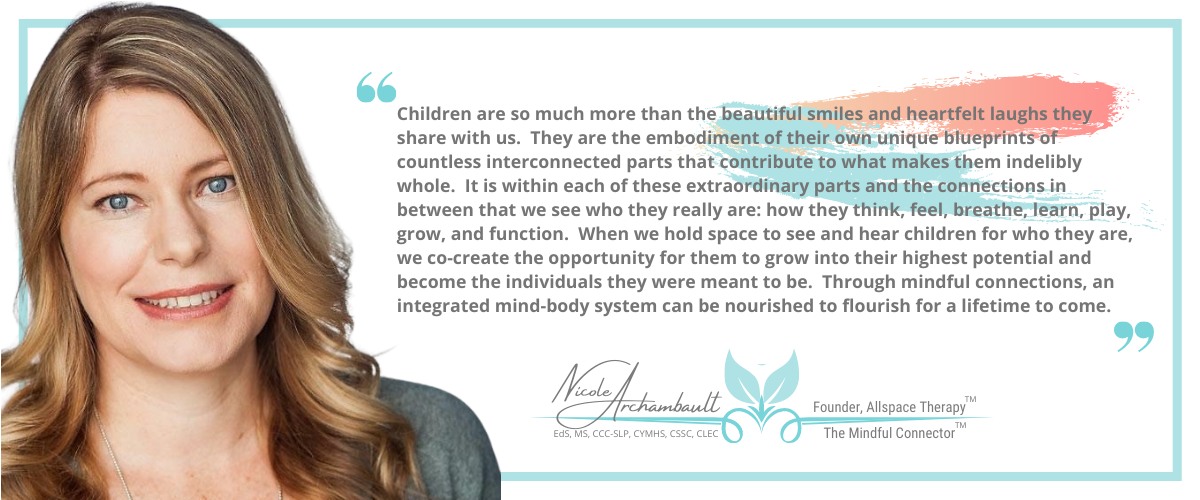 Nicole is an ASHA board certified speech-language pathologist with a unique blend of sub-specialties born out of her diverse and extensive education, clinical practice experience, never-ending curiosity, and ability to make mindful connections over the last two decades. In addition, Nicole is a certified youth mental health specialist, certified sleep science coach, breathing re-educator & airway advocate, and certified lactation educator/counselor. Merging both her own heart and head spaces, Nicole has brought forth a compassionate and individualized clinical care model alongside her clinical acumen to best meet the needs of children, their families, and her community. Her depth of understanding of an array of connections within the mind-body system and her ability to employ that knowledge in clinical practice and professional teachings has led many to refer to her as The Mindful Connector.TM  Even more, Nicole is adept at helping children to make their own mindful connections, so they can best access and develop their own innate talents while strengthening areas of need along their therapeutic journey.
Nicole has served on the outpatient pediatric interdisciplinary clinic team at Cedars Sinai Medical Center, as a clinical instructor on the craniofacial pain clinic team at White Memorial Medical Center, and as a graduate teaching assistant at Johns Hopkins University in the Graduate School of Education's Mind, Brain, and Teaching program.  In addition to obtaining BA and MS degrees in Speech & Hearing Sciences, Nicole's love of neuroscience led her to earn an advanced graduate level degree (EdS) in Brain Research (Educational Neuroscience) with an emphasis in Instructional Leadership.  As a self-proclaimed life-long learner and someone unable to stay away from formal education in neuroscience for too long, she returned to school for further graduate studies, and in 2016 graduated at the top of her class from the Mind, Brain, and Teaching graduate certificate program at Johns Hopkins University.
With a passion for teaching and writing, Nicole is a national and international speaker, as well as a published author on the topics of educational neuroscience, orofacial myofunctional therapy, airway function disorders and the autonomic nervous system, and sleep wellness in pediatrics. Nicole first shared her keen interest in airway function and orofacial myofunctional disorders in 2014 when she presented her research proposal for tongue-ties as clinical markers for sleep-disordered breathing at the AAMS Congress in Rome, Italy.  Her first article for The ASHA Leader (2015) on sleep-disordered breathing and tongue-ties garnered a Bronze Excel Award from Association Media & Publishing for Best Column. In 2019, Nicole presented her capstone project from Johns Hopkins University at the World Sleep Society titled: Oral Dysfunction and Sleep Meet Education: A Four-Part Collaborative-Model for Screenings. Her capstone project was the first of its kind to partner speech-language pathologists and elementary educators together for school-based screenings of sleep-disordered breathing.
Nicole is currently the Secretary for the Academy of Applied Myofunctional Sciences (AAMS) and is the myofunctional therapy Section Leader for the American Academy of Physiological Medicine & Dentistry (AAPMD).  As a steadfast champion for all children, and in collaboration with the AAPMD and The Breathe Institute, Nicole is the mind behind Generation A: a new section of the AAPMD connecting children of all ages with various generations of professionals to create the next generation of thought leaders, change agents, critical thinkers, lifelong learners, and compassionate collaborators.
Nicole is a clinical researcher, as well as a passionate advocate for interdisciplinary collaboration and public health awareness on airway health and sleep. Alongside an interdisciplinary team of colleagues on the FAIREST: Functional AIRway Evaluation Screening Tool (Pilot Study, Phase 1), her research on nasal breathing screening and tongue mobility has been published in the International Journal of Otorhinolaryngology and the Journal of Oral Rehabilitation respectively.
While pursuing her own unique career path with both passion and purpose, Nicole has been an extremely honored recipient of the 2021 Licia Paskay Award from the AAPMD for Creative and Inspirational Efforts Inspiring Community. In addition, she is a 2019 recipient of the Rising Star Investigator Award from the AAMS for Great Promise in the Advancement of Medicine via Myofunctional Sciences.  Nicole is an eight-time recipient of the ACE award from ASHA for her dedication to continued professional study.
Nicole is a profoundly grateful mom of two daughters and a rescue pup named Rapunzel as she travels along her own signature journey.